Welcome to the 'HAMMERHEADS ATTACKS' News
In September 2018, PBFC U19 boys, which consists of players from U15 to U19, played in the inaugural season of the East Florida United soccer league. Competing against teams of predominately nineteen (19) year old. The team was trained by Coach Tyler and progress could be seen midseason.
The younger groups continued to train and develop.
In November all players were registered and played in the Pompano Beach recreational program. The program saw the creation of an all-girls division. Players competed in games until the beginning of February. On February 20th, PBFC began operations with all players. During the recreational program, the U19 team continued to train.
With the addition of new coaches and the creation of new teams, PBFC will grow. Fixating on education as well as sport creates a better athlete and person. No matter what level of competition you reach, there comes an end date. Hopefully, you have a strong education to fall back on to continue a long and prosperous life.
Respect, education, discipline, integrity, and love of the game is what PBFC is about.
Special thanks to Coach Mike, Coach Tyler and Coach Junior for all their hard work and dedication to the 'beautiful game' and the players of PBFC. The Coaches continue to uphold the club values and work hard to make hammerhead players, the best player they can be. Discipline and hard work always pay off!
Alumni achievements:
Kervens Surpris is the captain of the Northeastern Intercollegiate Athletic Conference (NIAC) National Champions. Captain of the team at Fisher College in Boston. His major is business management and he was on the Dean's list 2018 to 2019.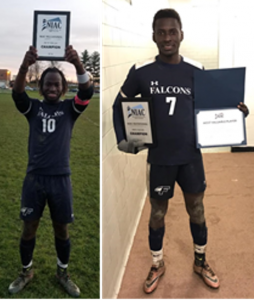 Billy joined him in 2018 and Stanley will join him in his senior year in 2019. PBFC is very proud to have had an influence on these young men's lives and they continue to move forward in their adult lives.
Leonardo Mildor – Fisher College, 2018 NIAC National Champion. MVP of the tournament. Studying Sports Management
Lee Herrera – Graduates from the United States Border Patrol Academy in March. We wish him all the luck in his new career. Stay safe Lee.
Hannah Hrabosky – Hannah is currently in Security Forces of the US Air Force, stationed in South Korea. Her next station will be in Germany.
Gian Scalise – Graduated from Clemson after competing in the 2018 National Championship. He is currently playing soccer in Mexico.
The Club continues to grow, attracting new talents that want to learn how to practice and play football the right way. Practice takes place 3 times a week behind the civic center at Four Fields. The Club allows two tryout sessions before registration is required. If you are interested in trying out and playing the Hammerheads, you can visit the website at www.pbfc-hammerheads.com, come visit us at Four Fields, or contact us at pbfc2007@aol.com.
Until next time ……………………………………stay out of the water.